HDPE polyethylene and PP tank
Polyethylene HDPE (High Density Polyethylene) and Polypropylene PP are used to manufacture large-volume storage tanks, in single-shell or double-shell versions. These materials guarantee resistance to even the most aggressive corrosive chemicals, effluents, various food products and petroleum products. The use of HDPE and PP guarantees resistance to corrosive outdoor environments, weathering, and the durability of your installations. Thanks to its more affordable cost and ease of installation, it has been winning over users for over 50 years.
If you want to install a horizontal or vertical tank, find out more before going ahead with your project. Stockage & Systèmes offers standard and customized solutions to provide you with the equipment you need.
What type of tank to choose?
Before ordering a tank, it's essential to define your needs carefully, taking into account its use and the environment in which it will be installed. We also need to determine the location and environment in which it will be stored, as well as the type of product and volume of liquid it will contain.
Whatever your sector of activity, Stockage & Systèmes can help you identify the best options for ensuring the long-term future of your new installations. Qualified technicians will work with you to define the most suitable dimensions and shapes, taking into account various parameters.
We provide you with top-quality, robust and easy-to-install tanks. You'll appreciate the professionalism of our engineers, who take into account the particularities of your installations and your working environment to produce tailor-made installations.
Benefit from expert advice to ensure the efficiency and durability of your storage or retention tanks. Whether you're looking for a material suitable for food products or corrosive chemicals, we can meet your needs. We offer single- or double-shell storage tanks with anti-UV treatment and fastening systems that guarantee the solidity of the installation.
Why choose an HDPE polyethylene tank?
Whether installed above ground, semi-buried or buried, HDPE polyethylene tanks are easy to install. Lightweight, easy to transport and handle, it costs much less than other available solutions. This material is also highly resistant to corrosive products.
1. HDPE polyethylene tanks easy to install
Thanks to their light weight, HDPE polyethylene tanks are much easier to transport and handle. A reinforced model is recommended for underground installations. If installation is entrusted to a qualified professional, the tank is ready for use in just one day.
2. Retains the quality of stored products
The HDPE polyethylene tank stands out for its perfect tightness and excellent chemical compatibility with most corrosive or food-grade liquids.
It is particularly recommended for storing hydrochloric acid (HCl), sulfuric acid (H2SO4), sodium bisulfite, soda ash, ferric chloride and all corrosive liquids used in industry.
3. A resistant and durable installation
HDPE is resistant to the sun's rays thanks to an anti-UV treatment. The reinforced HDPE tank structure is both resistant and durable. Even when buried, it withstands pressure well and does not crack like concrete. In any case, underground tanks should not be installed in areas where vehicles pass. These tanks are highly resistant to the chemicals to be stored. The lifespan of these plants is estimated at at least 25 years, but manufacturers often use them for 30 years or more. Contrary to popular belief, HDPE polyethylene is totally recyclable.
4. More affordable prices
Prices for HDPE polyethylene tanks vary according to volume. It's the cheapest and most efficient material for storing or collecting liquid. Request a quote to find out the price of the HDPE equipment you need.
The smooth walls of these tanks make them easy to maintain. To clean an HDPE polyethylene tank, it must be completely emptied. A high-pressure water jet is required. Water used after rinsing a tank that has stored a hazardous liquid must be recovered and treated before being discharged into the environment.
The quality of our tanks is our priority. All our welders are qualified and experienced. Before each delivery, the tank is inspected by operators who check all the sensitive points involved in manufacturing a tank (checking the manufacturing plan, checking the welds, testing the tank, etc.). ). The information is then passed on to the design office to complete the tank's technical file and plan the tank's delivery with complete peace of mind.

Order your HDPE polyethylene tank from a specialist in custom plastic boilermaking

Committed to production quality, Stockage & Systèmes has surrounded itself with the best technicians and created a workshop with the best production equipment. Our engineers offer you a complete range of equipment to ensure a reliable and functional installation. We carry out a detailed study to define your needs.
Specific procedures are followed during the creation, design and production process. At the end of the manufacturing process, we test each polyethylene HDPE tank for watertightness, strength and durability before delivery.
We take into account the nature of the liquids you intend to store to determine the technical characteristics of your equipment. Don't hesitate to contact us to discuss your projects.
Not only do we design your storage equipment, but you can also entrust us with turnkey installation. We guarantee the quality of every storage or holding tank we manufacture. Take advantage of our engineers' expertise and our team's experience in custom plastic sheet metal work. We can meet your requirements by combining our know-how with your ideas and instructions.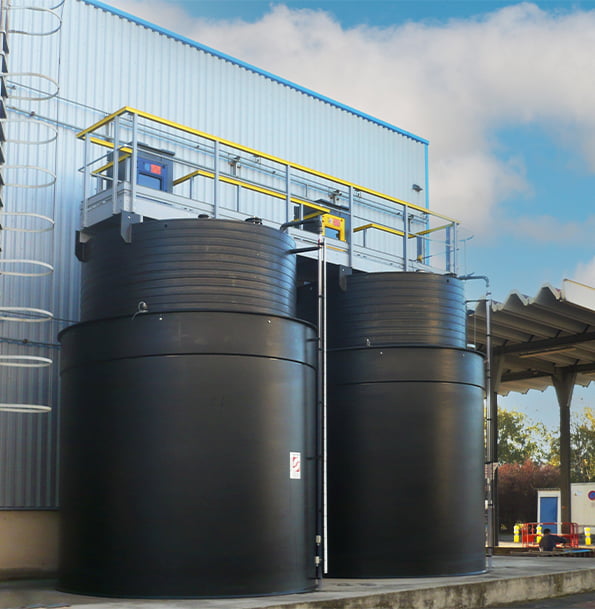 We're always keen to offer the right solutions to make it easier for you to achieve your company's objectives. We can meet the needs of professionals specializing in the chemical, environmental, pharmaceutical, nuclear, steel, food and energy industries, as well as heavy industry. Discover the different models of HDPE polyethylene tanks available online: vertical tanks, horizontal tanks, bins and dispensing or dosing cabinets. We also provide you with all the safety equipment you need to work in the best possible conditions.
Our entire team is available to discuss your projects
Contact us now!
What are you looking for?…suggestions