Our services: turnkey solutions

Engineering services, drawings, technical advice and assistance, installation, piping, electricity and automation, commissioning, after-sales service, technical inspections of tanks and installations.
Stockage & Systèmes' turnkey concept enables us to design installations with a global view to operation, environmental and safety regulations, technical performance and profitability for our customers.
Preferred partner for turnkey solutions
– Studies, plans, processes, layout
– Machining
– Tanks, washers, bins
– Pumps
– Unloading station
– DENOX plant urea, ammonia
– Access gateways
– Ventilation networks
– Air engineering
– Instrumentation and control
– Handling, assembly
– Piping, valves, connections,
– Labelling and safety
– Commissioning, staff training
From the pre-project phase through to turnkey delivery, Stockage & Systèmes brings to bear the experience it has acquired over the course of
several hundred installations already delivered.
Stockage & Systèmes is committed to delivering installations that can be operated safely. In the design phase, Stockage & Systèmes applies methods that integrate :
– Operation and maintenance operations

– Future working conditions for operators Compliance with prevention and safety regulations, thanks to ongoing legal monitoring
– Experience gained from numerous installations already delivered
– Ergonomics for safety and efficiency.
Specific turnkey installations

DENOX: Treatment of nitrogen oxides (SNCR system)

With the entry into force of the Kyoto Protocol, the signatory countries have been obliged to significantly reduce their greenhouse gas emissions.
One of the recommended processes is the non-catalytic NOx reduction system (SNCR).
A temperature of 900 to 1200°C is required for the thermal reduction of nitrogen oxides. The amount of reductant required is: 1 to 1.5 moles of NH3 per mole of NOx. 0.5 to 0.75 moles of urea per mole of NOx.
Since 2005, and in response to growing demand from some of its customers, Stockage et Systèmes has developed efficient stand-alone systems for the industrial sectors most concerned by the large quantities of nitrogen oxides emitted by their processes.
With reducer injection capacities ranging from 100 liters/hour to 2,000 liters/hour, Stockage & Systèmes has delivered more than 30 turnkey SNCR installations for cement producers, household waste incinerators in Chartres, Lyon and Grenoble, oil industries such as TOTAL, and glass manufacturers such as ST GOBAIN, in France and several other European countries.
Backed by the experience accumulated by its technicians and engineers during the many SNCR systems it has already built, Stockage & Systèmes guarantees customized, high-performance installations.
From the pre-project phase through to commissioning, Stockage & Systèmes brings its know-how to bear and creates turnkey installations tailored to each project.
Reducing NOx emissions: a demanding regulatory context
Nitrogen oxide (NOx) emissions result from the combustion of fuels in boilers, engines, furnaces, etc. At high temperatures, nitrogen and oxygen in the air combine to form NOx, which includes nitrogen monoxide (NO) and nitrogen dioxide (NO2). All energy-consuming activities therefore emit NOx.
Various recent international agreements, or those currently being finalized, oblige European states and other countries to significantly reduce their emissions of atmospheric pollutants, particularly nitrogen oxides, over the coming decade.
Industry in all sectors is obliged to comply with regulatory emission limit values.
The quantities emitted by a given installation depend on two main factors:
– Combustion conditions (process control, combustion/incineration or co-incineration temperature)
– The possible presence of flue gas treatment systems for this specific parameter.
Urea dilution, AdBlue manufacturing

Urea is most often used in industry as a reluctant in SCR or SNCR plants. Suitable for reducing nitrogen oxides in cement works, household waste incinerators, the glass and petrochemical industries.
When it comes to reducing Nox emissions from vehicles on the road, it's most often called AdBlue®.
In recent years, Adblue® has seen strong growth in its use, particularly in automotive engines and other vehicles requiring Adblue®.
Liquid urea is therefore exclusively manufactured industrially. Two main methods are used: The first involves dissolving solid urea granules, known as prills, in demineralized water. The second involves mixing synthetic urea with demineralized water.
Over the past few years, Stockage & Systèmes has designed and supplied several plants specifically for the manufacture of prill-based liquid urea.
Backed by their experience in chemical dilution, our technicians have invented reliable systems that take into account all the technical, environmental and economic characteristics required to deliver top-quality services to our customers.
Our urea manufacturing units can be combined with storage tanks manufactured by solid extrusion winding in high-density polyethylene (HDPE) to provide complete installations. Containing both the concentrated and diluted product, our tanks are made from highly resistant thermoplastics, guaranteeing our customers stable solutions, with no risk of metallic contamination or decomposition.
Our urea dilution plants can be equipped with several levels of automation.
The temperature drop of the urea during dilution is controlled, and the resulting mixture is maintained at a temperature that enables the system to operate without interruption.
Production times can be adapted to individual requirements.
– 2000 litres/hour
– 3500 litres/hour
– 20,000 litres/hour
The most frequently requested dilutions:
– Dilution from 96% to 50%.
– Dilution from 96% to 40%.
– Dilution from 96% to 25%.
The main system components are :
– an unloading system for filling a tank with urea prills
– a production water supply (usually demineralized water) with a controlled flow rate
– a system that combines mixing principles to ensure efficient mixing
– an in-line temperature maintenance system on the dilution skid
– a skid for transferring the resulting mixture to a final storage tank
The mixture is monitored by temperature sensors connected to the control system, which, in the event of an alarm, triggers a shutdown procedure to make the system safe.
Dilution of sulfuric acid with integrated cooling, other dilutions of acids and bases

Our acid dilution units can be combined with thermoplastic spiral storage tanks to provide complete installations. Containing both the concentrated and diluted product, our tanks are made from highly resistant thermoplastics, guaranteeing our customers stable solutions, with no risk of metallic contamination or decomposition.
We can provide a full range of project services, including complete project management, installation, commissioning and training to ensure efficient implementation and full knowledge transfer.
Our sulfuric acid dilution plants can be equipped with several levels of automation, and can produce diluted solutions from 5% to 80% from 96% or 98% sulfuric acid.
The mixing temperature is maintained at 25°C or 30°C as required thanks to an exclusive cooling system integrated into the dilution tank.
Mixing times can be adapted to individual requirements, for example :
– 2000 litres/hour for dilution from 96% to 25%.
– 3500 litres/hour for dilution from 96% to 40%.
– 5000 litres/hour for dilution from 96% to 50%.
The most frequently requested dilutions:
– Dilution from 96% to 50%.
– Dilution from 96% to 40%.
– Dilution from 96% to 25%.
The main system components are :
– A feed system in which the concentrated acid is positively delivered through a non-return valve
– A production water supply (usually demineralized water) with a controlled flow rate
– A system that combines "static venturi" mixing principles to ensure efficient acid mixing
– A fully thermoplastic "heat exchanger" type cooling system mounted inside to continuously cool the acid produced before transferring it to the storage tank.
The requirements for the operation of this dilution plant are :
– Three-phase power supply
– Compressed air supply (6 bar)
– Demineralized water supply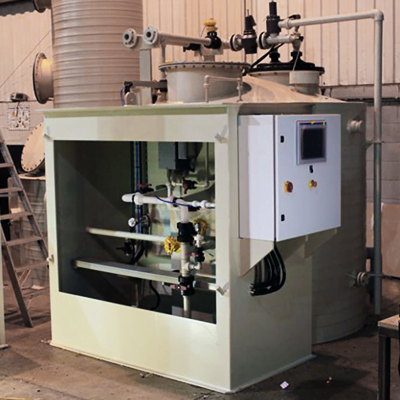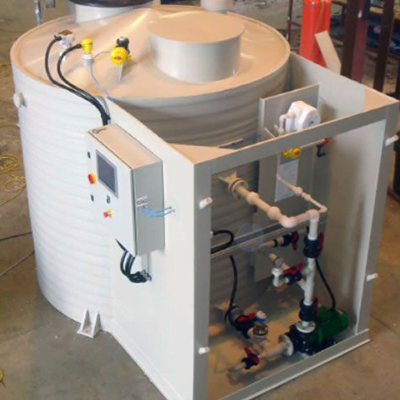 Anti-odor treatment with Calcium Nitrate

Lodorous air pollution near certain certain industrial sites or municipalmunicipal wastewater treatment plants is increasingly controversial. An installation that complies with all health and environmental air pollution standards may emit unpleasant odors.
Solutions exist to reduce this pollution, such as the calcium nitrate injection solution. calcium nitrate developed by
YARA
. Diffused into the sewage network via HDPE tanks and our dosing and unloading solutions, it blocks fermentation, and therefore the formation of odorous compounds (e.g. H2S ).
Our products can meet these needs.
Gas scrubbers, scrubbing towers

Gas scrubbing involves solubilizing a polluting gas in a liquid. This liquid may be water or water with a neutralizing reagent added. It can be an industrial gas treatment system used in many applications such as natural gas production, petroleum gas recovery, chemical production, the metallurgical industry and power generation.
From gases emanating from storage tanks to specific installations with forced ventilation, Stockage & Systèmes can help you choose the best solution.
How it works
Gas scrubbers work by circulating contaminated gas through a series of separators, filters, coalescers and dryers, which remove impurities and produce a purified gas. Gas scrubbers can be tailor-made to meet the specific requirements of each application, and can be designed to operate in high-temperature conditions.
Necessary for several reasons, including :
Environmental protection: Impurities in gases can cause environmental problems if released into the air or water. Gas scrubbers remove them to minimize environmental impact.
Safety: Impurities can be hazardous to workers and surrounding installations. Gas scrubbers are used to eliminate them to ensure the safety of workers and installations.
Improved quality: Gas scrubbers improve gas quality, which can be important for certain industrial processes that require high-quality gas.
Cost-efficiency: Gas scrubbers extend equipment life, reduce maintenance costs and increase process efficiency by removing impurities.
The 3 main types of washer :

–
Recirculation washing for better control of water consumption
– Washing with in-situ neutralization
Automatic polymer preparations: POLYGROUP

Polygroup® is a range of automatic polymer compounders for emulsions and powders. In response to the exacting demands of water and sludge treatment, Polygroup® provides an excellent performance/space/ergonomics ratio for manufacturing processes and environmental problem-solving. Combining different solid-liquid or liquid-molecule mechanical separation processes with Polygroup® SE (emulsion polymers), Polygroup® SP (powder polymers) or Polygroup® SX (combined emulsion and powder), means greater efficiency and improved separation performance.
For solid/liquid phase separation processes
The use of preparation groups such as Polygroup® SE, Polygroup® SP or Polygroup® SX, and more generally the use of polymers or flocculants, are essential in many applications:
– Water treatment (drinking water and industrial water)
– Wastewater treatment
– Urban and industrial sludge treatment (centrifuge, filter press, etc.)
– Paper industry
– Fine chemicals (pharmaceuticals, etc.)
– Heavy chemicals (mineral processing, fertilizers, petrochemicals, etc.)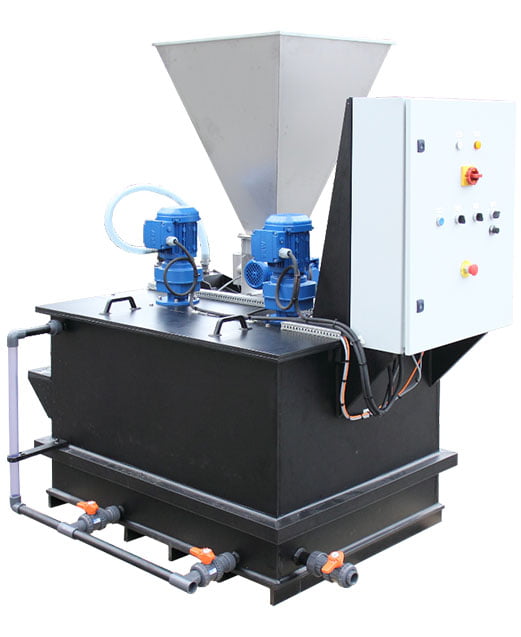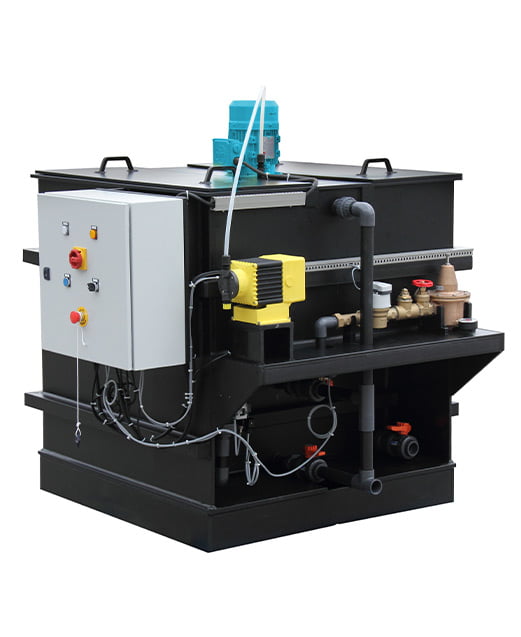 Polyester platforms and structures for corrosive environments

Walkways adapted to our tanks, ladders with crinoline, stairs
Whether for a turnkey project or simply for an existing installation, our team can design and secure access and circulation in your storage area.
After studying the customer's needs, our design office calculates the footbridges to ensure optimum strength and safety. They are then assembled on our premises by our experienced technicians. Finally, as with all our storage products, we can assemble them on site, if required by the customer.
To withstand the most corrosive environments, our platforms and other access structures are made mainly of pultruded reinforced polyester profiles (GRP) and polyester resin gratings.
Gratings are usually made of 19*19 square mesh to comply with the 20 mm ball standard.
This type of material addresses the problem of corrosion in chemical storage and transfer installations.
Our main structures:
– Walkway: beams and tubes in reinforced polyester, non-slip grating in polyester/fiberglass composite
– Stairs: Beam and handrail in non-slip polyester/fiberglass composite gratings
– Ladder with crinoline: Ladder with standard crinoline guardrails, reinforced polyester tubes
– Wicket door: lockable, reinforced polyester tubes
Engineering services, plans, complete installations

Our team of experienced engineers works closely with our customers to understand their unique needs and provide tailor-made solutions. We use state-of-the-art technologies to guarantee the quality, reliability and safety of our installations.
Our engineering services include the design, construction, installation and commissioning of vessels, tanks, silos, bulk storage systems and other associated equipment. We also offer maintenance and repair solutions to ensure the longevity and smooth operation of our installations.
We are proud to work with companies of all sizes in a variety of industrial sectors, including chemicals, food, petroleum products and specialty chemicals. We can provide storage solutions for products as varied as corrosive chemicals, petroleum products, specialty chemicals, food products and pharmaceuticals.
Customer satisfaction is our top priority. We are committed to providing superior solutions, customized services and ongoing support throughout the lifecycle of our installations. Contact us today to discuss your chemical storage needs and find out how we can help you achieve your goals.
Our entire team is available to discuss your projects
Contact us now!

What are you looking for?…suggestions