HDPE and PP horizontal tanks

Above-ground tanks on cradles, underground tanks
If you're looking for a reliable storage solution for chemicals, liquids and other substances, then horizontal tanks in HDPE (high-density polyethylene) and PP (polypropylene) are the ideal solution for you. This type of tank offers a unique combination of strength, durability and quality, making it a popular choice for many industries.
Advantages of the HDPE and PP horizontal tank:

– Resistance to aggressive chemicals
– Durability and reliability
– Easy to clean and maintain
– Lightweight and easy to transport
– Scratch and corrosion resistance
Resistance
corrosive products

Durability
and reliability
Easy to clean
and maintenance
Lightweight
and ease of transport
Scratch resistance
and corrosion
HDPE is highly resistant to aggressive chemicals and corrosion, making it a popular choice for industrial applications. PP, meanwhile, offers excellent heat resistance and corrosion resistance, making it an ideal choice for food applications. When choosing a horizontal HDPE or PP tank, it's important to consider the required storage capacity, storage temperature, compatibility with chemicals or liquids, resistance to aggressive chemicals, durability and quality.
Numerous industries have successfully used horizontal HDPE and PP tanks to store chemicals, liquids, food products, etc.
Chemical plants, water treatment plants, food factories, industrial cleaning companies and chemical production companies have all successfully used horizontal tanks.
Horizontal HDPE and PP tanks are available in various sizes and capacities, with different customization and configuration options to suit the specific needs of each customer.
You can choose tanks with screw-on lids, handles, safety valves, plugs, level gauges, filling hoses and more.
Above-ground tanks on cradles

Cradle-mounted above-ground tanks are versatile storage solutions for liquids and chemicals. They offer many advantages over in-ground or rack-mounted tanks.
Above-ground tanks are quicker and easier to install than in-ground tanks. They can be moved if necessary without damaging the soil, making them ideal for areas where the ground is difficult to dig or where excavation permits are hard to obtain. The support cradles also keep the tank at a suitable height for filling and emptying operations, facilitating access and handling.
Above-ground cradle-mounted tanks are made from HDPE or PPH, robust and resistant materials that guarantee a long tank life. HDPE tanks offer excellent resistance to aggressive chemicals, while PPH tanks are particularly suitable for high-temperature products, foodstuffs and drinking water. Above-ground tanks on cradles are also available in different sizes and capacities to meet the specific storage needs of each customer.
Above-ground tanks on cradles can be customized to meet the requirements of each project. Options such as drain valves, filling inlets, pressure gauges and level gauges can be added to improve storage management and facilitate emptying and filling operations.
In short, above-ground tanks on cradles are a flexible, durable storage solution for industries and businesses looking for a way to safely store liquids and chemicals. With easy installation, long life guaranteed by the robust materials used in manufacture, and customization options available, above-ground tanks on cradles are an excellent option for storage projects.

Underground tanks are used to store liquids such as water, chemical effluents, washing water or chemicals. They can be made of steel, concrete or polyethylene, depending on storage capacity, corrosion resistance and cost.
The advantages of underground tanks include enhanced safety, protection from the elements and environmental impact, and the ability to take up less space than above-ground tanks. They can also be designed to adapt to a variety of terrain configurations and environments, making them a popular choice for industrial, commercial and municipal applications.
When used to store chemicals, underground tanks must comply with strict safety and environmental regulations. This can include requirements for containment, leak detection and wastewater treatment. Manufacturers of in-ground tanks must comply with international standards such as ISO 14000 to guarantee the quality of their products.
When chosen and used correctly, in-ground tanks can provide a reliable and durable solution for liquid storage. Consumers can rely on reputable manufacturers to supply tanks designed and built to the highest standards of quality and safety.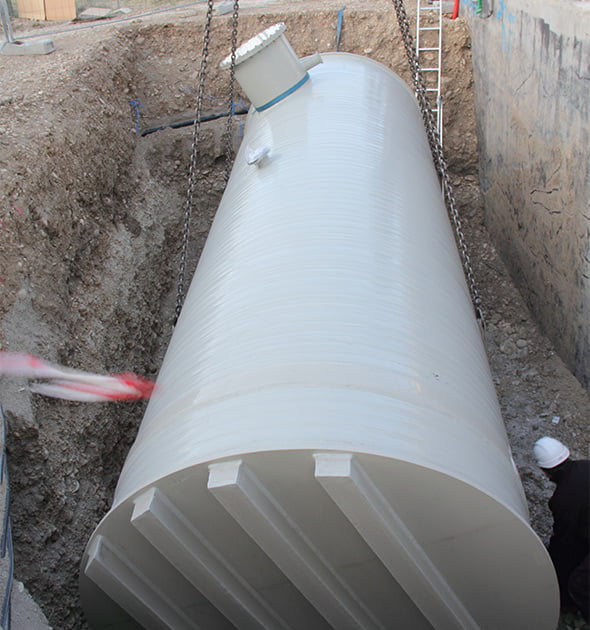 Our entire team is available to discuss your projects
Contact us now!

What are you looking for?…suggestions