Tailor-made plastic boilermaking to meet your needs faithfully

If you have specific plastic boilermaking needs, Stockage & Système has a team specializing in made-to-measure plastic boilermaking. We are fully conversant with all the techniques used to design and manufacture specific technical parts and assemblies.
Study, design and manufacture of equipment in thermoplastic material

Whatever your sector of activity, Stockage & Systèmes can meet all your needs. Whether you work in the food, chemical, pharmaceutical, automotive or aeronautical industries, contact us for the design and manufacture of your thermoplastic equipment.
The team works to precise specifications and can meet your requirements, whatever your sector of activity. We put our expertise at your disposal to bring your projects to fruition in the best possible conditions. Our technicians specialize in surface treatment, waste treatment and air treatment.
Customized plastic boilermaking starts with a thorough analysis of your needs, to design, manufacture and produce complex equipment, pump skids, ventilation ducts and custom pipe isometrics.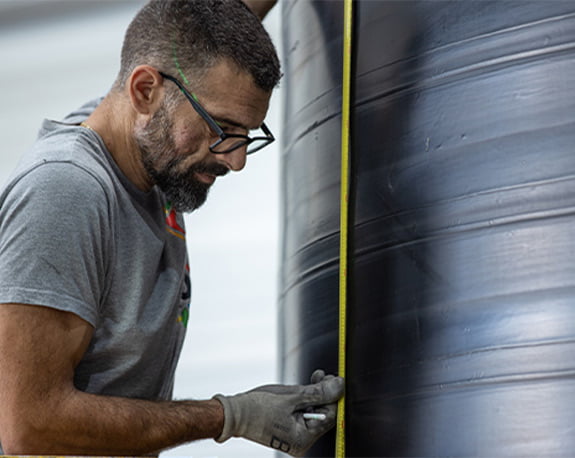 We use various types of polymer to create and manufacture plastic boiler components. We apply rigorously precise techniques to cutting, drilling, welding, bending and assembly. Machining and polyfusion are also used.
Our workshops are equipped with professional tools and special digital machines, enabling us to produce impeccable, meticulous work. Our team meticulously complies with current regulations and provides you with all the information you need to guarantee a user experience that meets your requirements.
Custom plastic boilermaking: what are the advantages?

Made-to-measure plastic boilermaking offers many advantages over other metal materials. For example, thermoformed plastic is highly resistant to chemical agents, yet both durable and more affordable. This makes it a material of unquestionable quality.
Plastic is corrosion-resistant and has excellent resistance to chemicals. For example, thermoformed plastic sheet is much stronger than metal sheet. You're protected from rust and oxidation. By entrusting the creation, design and manufacture of your adapted polymer products to specialized technicians, you benefit from expertise that guarantees the smooth operation of your equipment.
Thermoplastics are more impact-resistant and absorb shocks better. You'll also appreciate the aesthetics of the products: you can choose the colors that suit you, and you'll never have to worry about painting.
2- Durable, profitable and economical

If you're looking for more affordable alternatives for a large-scale project, plastic boilermaking is highly recommended. Not only are the manufacturing processes much more economical, they also guarantee the durability of the equipment supplied.
3- Lighter and easier to recycle tools

Polymers have the advantage of being lighter than metal substrates. Thermoplastic materials are much easier to transport and move. Thermoplastics are 100% recyclable. This is an excellent alternative for responsible companies who want to preserve natural resources.
4- Malleable and less noisy

Less noisy than metal components, thermoplastic parts are ideal for work areas where noise levels need to be reduced. It's much easier to give them specific shapes and add slots or curves. Designers are much freer and can constantly innovate the designs of their creations.
Made-to-measure plastic boilermaking: manufacturing processes that comply with the standards in force

Plastic boiler manufacturing methods are important to guarantee the quality of the parts produced. We implement rigorous control systems to verify the strength and watertightness of every piece of equipment we manufacture.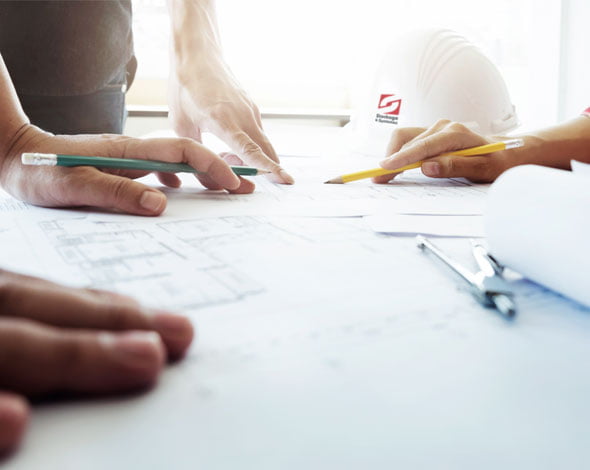 1- A complete study before launching the project

Your project for the creation, design and manufacture of thermoplastic equipment is handled by qualified technicians. Our engineers carry out a preliminary study to determine whether the part or assembly is feasible. Precise calculations will enable us to draw up plans and define the most appropriate manufacturing processes.
This study is also essential for proposing the type of polymer to be used to impart specific properties to the products: anti-UV, impact protection, anti-corrosion, other types of protection or aesthetic characteristics.
At the end of the manufacturing process, we take the time to analyze the conformity of the materials ordered, taking into account the applicable standards and specifications.
2- The different manufacturing processes

The extruder can be used to form and assemble parts. Plastic machining uses high-capacity digital machines for cutting, grooving, slotting, drilling, engraving and tapping. The dimensions you require will be meticulously respected.
Cutting plastic parts is an essential step, but one that also requires pinpoint precision. We use special tools (circular saw, horizontal panel saw, digital saw with automatic tool changer, etc.). Next, we use a mold to produce parts that are seamless and form a single block. Once the product has taken on the desired shape, it is cooled and removed from the mould. We also apply other techniques depending on the specifics of the order: bending, folding and plastic welding.
We can also take care of installations, maintenance and repairs at the sites of your choice. Whatever the nature of your needs, we can offer you the most appropriate solutions thanks to our made-to-measure plastic boilermaking. Don't hesitate to contact us for detailed answers to your questions. Benefit from personalized support to guarantee the quality of the parts you order.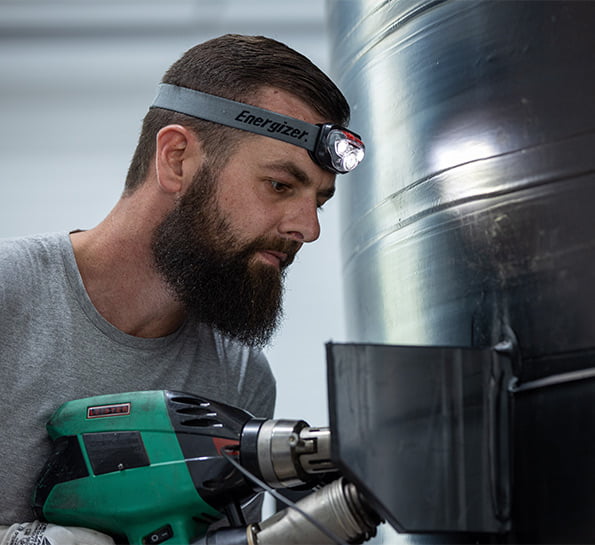 A rectangular tank is a rectangle-shaped container used to store liquids, gases and other substances. This type of tank can be made from a variety of materials such as metal, plastic, fiberglass, etc. Rectangular tanks are widely used in many industries, including the chemical, agricultural, food, oil & gas and power generation sectors.
The advantages of rectangular tanks include high storage capacity, efficient use of space, increased resistance to corrosion and ease of transport. What's more, rectangular tanks can be customized to meet specific customer requirements, with options such as lids, level gauges, inlet and outlet pipes, plugs and more.
Digital machining offers many advantages over traditional machining methods. Firstly, it provides greater precision and uniform surface quality. What's more, the machines can be programmed to produce complex parts that would be difficult or impossible to produce by hand.

Our entire team is available to discuss your projects
Contact us now!

What are you looking for?…suggestions