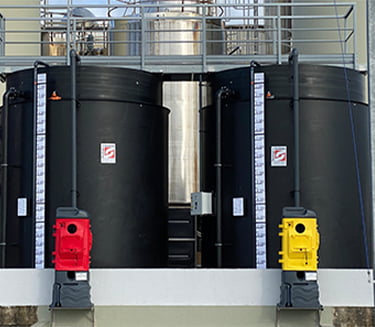 Every year, many accidents occur because chemicals such as acids are not stored and handled according to safe practices and current regulations. If you need these chemicals for your business, we strongly recommend that you find out about the applicable safety regulations.
Stockage & Systèmes offers solutions tailored to your needs, and supports you in ensuring the safety of your employees. Find out more about how to store acid, and discover expert advice on how to implement the necessary safety measures.
How to store acid: precautions to take
Acid is one of the hazardous materials whose handling and storage require special measures to ensure the safety of those exposed. The applicable regulations lay down strict measures for the storage of hazardous materials.
As soon as you set up your storage facility, we strongly recommend that you have the equipment you need to comply with safety regulations. It should be noted that the measures applicable to protect your teams from workplace accidents differ from one product to another.
1- How to store acid: the essentials
Acids are among the hazardous products requiring strict precautions. All facilities must be ready to facilitate the storage and handling of the acids and bases you need to work safely. These highly corrosive products can cause serious accidents if they leak.
How to store acid? Bases and acids must be stored separately, especially when concentrated. Where certain acids pose particular risks, they should be isolated and kept away from work and traffic areas. If they come into contact, the exothermic reactions that ensue can cause serious injury and respiratory problems.
2- Important measures to improve storage of hazardous products
Access to the storage area should be restricted to authorized personnel only. Schedule regular inventories to keep products up to date (replace out-of-date items). Check that chemical products are properly labeled and supplied with regulatory safety data sheets. It is also important to implement a strict classification system to limit the risk of accidents. Tools and other work equipment must not be stored with chemicals such as acid.
Persons gaining access to storage areas must wear protective equipment such as gloves, goggles and acid-proof overalls. If the acid comes into contact with skin or eyes, rinse immediately with plenty of water for at least a quarter of an hour.
You should also check for dangerous and violent reactions when acid comes into contact with certain other substances. To reduce the risk of accidents and toxic fumes, incompatible products must be stored in suitable facilities that are regularly inspected.
Finally, make sure your products are protected from water (leaks, flooding, etc.). Now that you know how to store acid, it's time to choose the right equipment for maximum safety.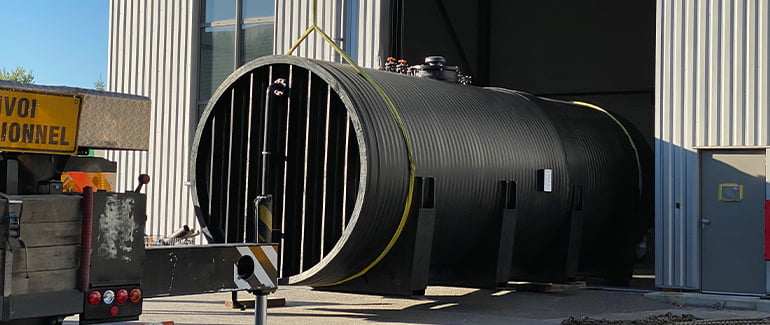 What equipment is needed to store hazardous products such as acids?
There are several types of container for storing acid safely. The safety cabinet is one of the most reliable. However, it is also possible to use containers fitted with anti-spill shelves and drip trays.
For bulk storage, you can choose double-walled HDPE polyethylene tanks for optimum protection. This equipment can be fitted with measuring instruments and pumps to facilitate the management and handling of the acids you store.
Specially designed acid storage equipment reduces the risk of corrosion and damage to property or personal injury. These installations must be well designed and equipped with control systems entrusted to responsible technicians who know how to store acid.
Customized equipment for better acid storage with Stockage & Systèmes
Stockage & Systèmes specializes in customized plastic sheet metal work, offering customized solutions for your hazardous chemicals. Our experts know all the applicable safety regulations and how to store acids. After a preliminary visit, we can make suggestions so that you can equip yourself wisely.
Your needs are carefully studied to ensure that the equipment proposed is perfectly compatible. We design and manufacture tanks and cabinets in HDPE polyethylene and PP Polypropylene, which are perfectly resistant to the most corrosive and aggressive products. We provide expert advice and can train your teams to understand how to store acids and other corrosive chemicals. We can also help you comply with the regulations that ensure the safety of your storage units and your employees.
Whatever the volume of your products and the size of your storage tanks, we can help you install the equipment and set up the various elements that facilitate product management and handling, as well as the control systems essential to the safety and reliability of your installation. We can design, produce and install the HDPE polyethylene cabinets or tanks you need.
Stockage & Systèmes is the ideal partner to bring your projects to fruition under the best possible conditions. Even if you don't know how to store acids, you benefit from personalized support. Your employees are trained to use these aggressive chemicals safely. You'll learn how to easily label and identify stored substances, avoiding mixing or storing incompatible products together. Don't hesitate to contact our technicians to discuss the specifics of your acid or base storage projects within your production facilities.
let's start the work
Together
Do not hesitate to contact us. We will get back to you within 1-2 working days. Or call us now.