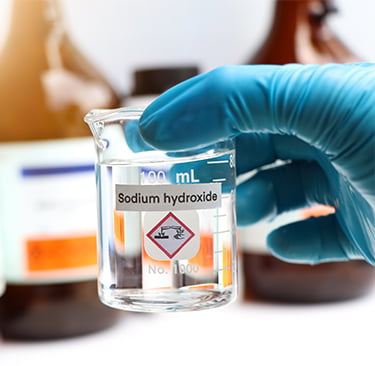 Caustic soda or sodium hydroxide (NaOH) is a strong basic substance, available in solid form at room temperature. Composed of sodium cations (Na+) and hydroxide anions (OH-), caustic soda dissolves easily in water. The resulting transparent solution is known as "soda".
It is most often found in industry in the form of 30% soda ash or 50% soda ash.
Soda ash is characterized by its corrosive nature. That's why it's vital to choose the right storage solutions for this strong base. Find out how to store soda ash with Stockage & Systèmes.
Soda ash: precautions to avoid accidents
In general, sodium hydroxide is used to regulate the acidity of a process or to control an alkaline medium. It is also indispensable in the paper pulp manufacturing process, in the oil industry, in the food industry for CIP (Cleaning in Place) installations, in the neutralization of chemical effluents, or for treating different types of natural fibers. It is used in soap production, oil refining and stainless steel pickling. It is also the main component of products used to unblock blocked pipes.
Sodium hydroxide is obtained by electrolysis of brines. It can also be produced through a causticization reaction: to do this, you need sodium carbonate, which occurs naturally in ores or plant ash.
Great care must be taken when handling this product, as it is highly exothermic. If you get splashed, you risk serious injury. Irritating and highly corrosive, concentrated lye is dangerous not only to the eyes and skin, but also to the respiratory and digestive tracts. Soda ash is dangerous for aquatic animals and plants if it is discharged into waterways. In fact, this product tends to raise the pH of the water. So it's vital to understand how to store soda ash, to make it easier to use on a daily basis and to limit the risk of accidents.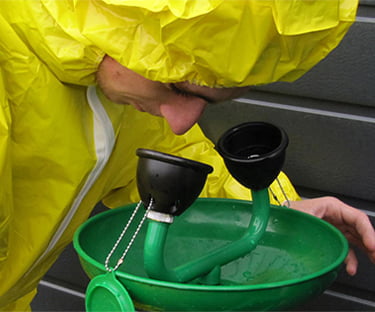 How to store soda ash: sound advice for professionals
The storage and handling of sodium hydroxide and soda ash requires precautions to avoid accidents. To do this, you need the right equipment, and it's equally important to follow the recommended procedures.
If you need to handle sodium hydroxide, dissolve it gradually. The dissolving process generates a great deal of heat, with water vaporization and violent splashing. To prevent accidents, make sure your eyes, skin and clothing do not come into contact with the product.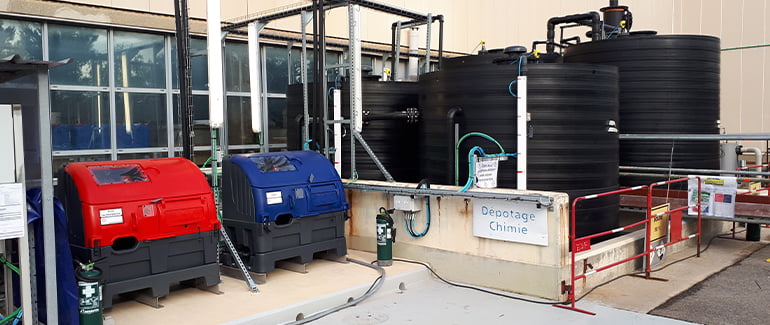 How to store soda ash? To answer this question, you need to ensure that your storage areas are well ventilated. Use suitable containers to dilute lozenges, scales, pearls or crystals. You must add the product to the water, never the other way around. Access to storage and handling areas must be restricted to authorized personnel. They must wear appropriate protective equipment to protect skin, eyes and clothing from any splashes.
In storage and handling areas, teams must be provided with safety showers and eyewash fountains to reduce the effects of the product on them. All opened packaging must be carefully resealed after use. Metal objects should be avoided to prevent any reaction with sodium hydroxide.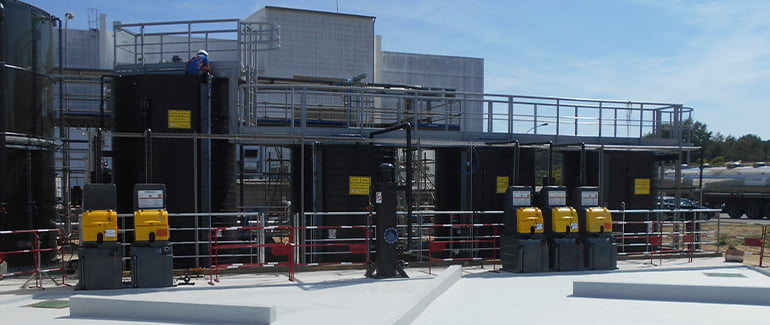 Soda storage facilities must be equipped with spill containment facilities to contain the liquid in the event of an accidental spill. The volumes required for these retentions are governed by very precise regulations.
How to store soda ash? What containers can you use? It is imperative to use containers made of materials compatible with soda ash, such as stainless steel, high-density polyethylene (HDPE) and polypropylene (PP). However, as stainless steel is an expensive material, you should opt for a high-density polyethylene HDPE or PP Polypropylene tank, an affordable material that is highly resistant to corrosion and the chemical aggression of soda.
How to store soda ash? Please note that you cannot use containers made of aluminum, titanium, tin, zinc or alloys of these metals. You should also avoid rubber containers and those made from certain other plastic materials.
How do you store soda ash in HDPE containers?
Choosing HDPE (High Density Polyethylene) or PP (Polypropylene) polyethylene is the best storage solution for chemicals. Several sizes of this type of storage tank are available, and you can store soda perfectly in HDPE and PP tanks up to 90 m3. HDPE withstands temperatures of up to 50°C, while PP withstands temperatures of up to 90°C. Soda storage facilities must also be equipped with suitable gauges and pumps to ensure safe product transfer.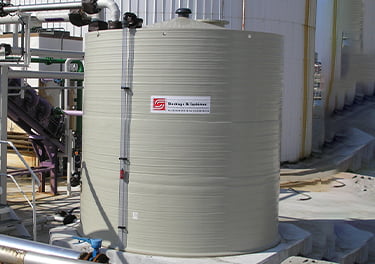 Whatever your needs, it's highly recommended that you work with a plastic sheet metal expert to benefit from the right services. Stockage & Systèmes designs, manufactures and supplies tailor-made equipment for industry professionals wishing to set up chemical storage and handling areas.
A specialized team will inform and guide you so that you know how to store caustic soda or sodium hydroxide (NaOH) in the best conditions and at the best price. Our engineers specializing in plastic boilermaking first study the particularities of your storage and production facilities before proposing customized solutions. Benefit from our expertise in choosing the right components.
Stockage & Systèmes can provide turnkey installation of your soda storage and handling areas. We check the equipment in place point by point to ensure the safety of your employees and the continuity of your business. Thanks to our expert advice and the quality of our storage tanks, your teams will be able to work more efficiently.
Now that you know how to store soda ash, you've surely realized that setting up such applications requires the intervention of qualified professionals. Ask for a personal consultation so that we can help you make your project a reality. You can also take advantage of our expertise to optimize your internal production process.
let's start the work
Together
Do not hesitate to contact us. We will get back to you within 1-2 working days. Or call us now.