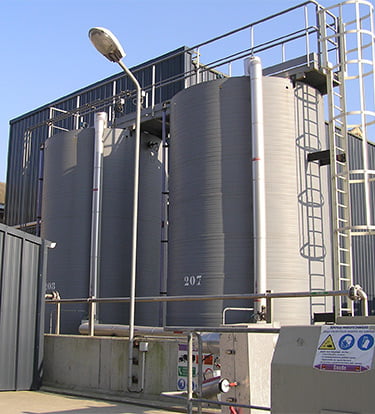 How to store chemicals? Specific rules must be followed to guarantee the safety of people working on your business premises. The risks associated with the use of these substances are high, which is why strict measures must be taken.
Several parameters need to be taken into account for successful storage: the quantity of products, their characteristics (acid or basic, volatile, flammable, etc.) and their compatibility with the other elements present.
It is also essential to consider the ventilation, securing and stability of storage tanks in the face of temperature changes and various forms of radiation. Find out how to store chemicals in compliance with current standards.
How to store chemicals: optimize storage management
If you want to know how to store chemicals efficiently, you need to know how to optimize your storage facility right from the design phase. Careful organization is essential to avoid risky chemical reactions, the evaporation of harmful products, and the risk of fires or explosions that can cause injury, poisoning and major damage.
1- Better design and layout of storage areas
If you want to know how to store chemical products, the first thing to do is to adapt the planned storage areas, taking into account the types of products, the quantities to be stored, their characteristics and properties, as well as any incompatibilities between the different products.
It's vital to know the types of containers you plan to use, the quantities used over a given period and the number of people who can access the storage area. It is also advisable to provide a dedicated area for the storage of chemical waste and washing effluents, to facilitate their disposal.
2- Central and buffer storage
It also makes sense to limit the quantities of chemicals available in the workplace. However, to guarantee business continuity and to facilitate the supply of central stock, it is advisable to set up buffer storage areas at a distance adapted to the location of your business premises.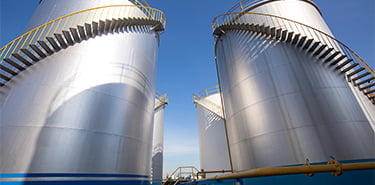 How to store chemicals: strict regulations
The layout of a chemical storage area is governed by strict rules. It should be noted that compliance with these rules is regularly verified by the official bodies in charge of these controls. Each container must be marked with a label indicating precisely the product stored and its properties. If the substance is harmful or dangerous, this information must be clearly specified on the label, in accordance with the "Classification Labelling and Packaging" regulation.
1- Rules for successful chemical storage
Only trained and qualified personnel should have access to chemical areas. A person in charge must be appointed to keep the central and buffer stocks up to date. You need to draw up a regulatory safety data sheet and affix precise labels to each container.
It is also essential to define a meticulous filing system, specifying the location of the various products. You should also avoid storing tools, equipment and large quantities of packaging in the chemical storage room.
The "first in, first out" destocking rule must be applied to ensure that best-before dates are respected. Periodic check-ups should also be organized to eliminate out-of-date products or items no longer in use. Finally, access roads, exits and emergency equipment must be kept clear of obstructions.
2- Appropriate storage solutions
To avoid chemical risks, it is essential to use storage solutions that are appropriate for the type of products to be preserved. If you want to store hazardous chemicals, you absolutely must use high-quality storage tanks made from materials compatible with the liquid being stored. Different materials are suitable for different liquids. Stockage & Systèmes will be happy to advise you on your choice of material.
Stockage & Systèmes offers you HDPE polyethylene and polypropylene tanks, single or double-jacketed, for volumes up to 90 m3, even for concentrated corrosive chemicals.
Chemical storage, customized solutions with a specialist in plastic sheet metal work
Now that you know how to store chemicals, it's vital to work with a serious partner who has the necessary expertise and experience in the field. Whether you're looking for safety equipment, vertical or horizontal HDPE polyethylene tanks, dispensing and dosing cabinets, Stockage & Systèmes can supply you with customized equipment.
A technical team will make you a personalized proposal after a site visit. The dimensions, shapes and characteristics of the containers dedicated to your central and buffer storage are determined with great precision to guarantee the safety of your employees and to avoid incidents that could slow down or compromise the continuity of your activities.
Get expert advice on how to install signage and label containers. These signs are essential to indicate the location of the various products, and thus facilitate the organization of the work of those in charge of the storage areas. Stockage & Systèmes offers creation, design, manufacturing and complete turnkey installation services.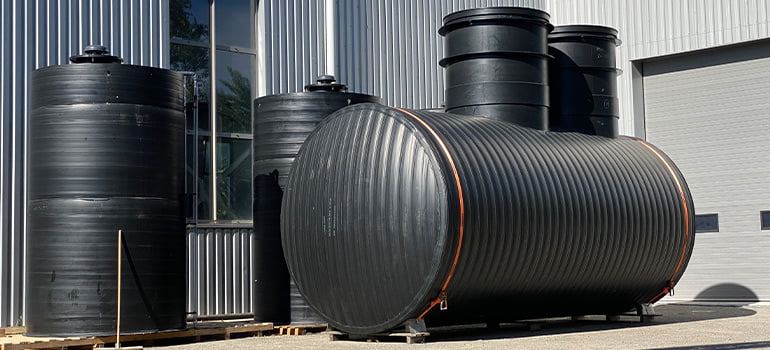 Whatever your needs, our engineers can provide you with customized offers. Experienced engineers are on hand to help you identify any incompatibilities and the precautions to be taken to avoid the risk of accidents. How to store chemicals? No detail is left to chance to ensure safety within your company.
We carefully check the building materials used. We also take care to prevent accidental spillage of our products, using only the strongest, most resistant materials. Ventilation and vapour scrubbing systems protect your installations from harmful or corrosive vapours.
let's start the work
Together
Do not hesitate to contact us. We will get back to you within 1-2 working days. Or call us now.